LIFE AMPHICON – Amphibian Conservation and Habitat Restoration
LIFE18NAT/Sl/00711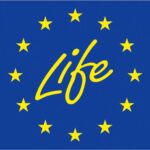 PROJECT TIME FRAME: 01/11/19 – 31/12/2026
Total project budget: 8 079 824.00 €
EC contribution: 4 840 514.00 €
THE AMPHICON PROJECT FOCUSES ON THE AMPHIBIAN CONSERVATION AND ON IMPROVING THEIR HABITATS
THE MAIN TARGET SPECIES ARE:
The Annex II and IV species fire-bellied toad (Bombina bombina), yellow-bellied toad (Bombina variegata), Italian crested newt (Triturus carnifex) from Habitats Directive and syntopic Annex IV species agile frog (Rana dalmatina), moor frog (Rana arvalis) and European tree frog (Hyla arborea). Northern crested newt (Triturus cristatus) (Annex II) will also profit from the project.
THE MAIN ISSUES TARGETED WITHIN THE PROJECT ARE:
THE DECLINE OF AMPHIBIAN POPULATION BECAUSE OF HABITAT LOSS
In Slovenia, Germany, and Denmark amphibians are undergoing a significant decline mainly caused by a loss of suitable aquatic and terrestrial habitats. The project will mitigate this within the project areas by creating or restoring core amphibian habitats for fire-bellied toad in Slovenia, Germany and Denmark, yellow-bellied toad in Slovenia and Italian crested newt in Slovenia.
THE DECLINE OF AMPHIBIAN POPULATION DUE TO HABITAT FRAGMENTATION
In Slovenia, the increasing traffic and fragmentation of habitat complexes poses a serious threat for amphibians. From over 1,500 amphibian hotspots of road mortality in Slovenia, mitigation measures are implemented only at a few. More than 300,000 animals are dead on roads every year. Rescue actions are organized on 4 hot spots in project sites and over 20,000 animals have been carried safely over the road by volunteers every spring in the last 10 years, with several dozens of Italian crested newt and yellow-bellied toad among them. In order to mitigate this, approximately 60 road tunnels at 4 sensitive spots in Slovenia are planned. Surrounding habitats will be improved in order to create safe home ranges for the target species. In Germany and Denmark, it is foreseen to improve suitable habitat complexes for fire-bellied toad (also via land purchase) in order to create safe home ranges for the species.
UNFAVOURABLE REPRODUCTION RATES FOR FIRE-BELLIED TOAD IN SLOVENIA AND DENMARK
The reproduction rates of fire-bellied toad in Denmark and Slovenia are considered to be too low in order to survive on a long term basis. With only few remaining reproducing animals, a genetic impoverishment might take place. To mitigate this problem and to provide a healthy genetic base for the future, population management actions (artificial rearing of fire-bellied toad) will be carried out in all 3 partner countries followed by the activities in C actions that will improve the habitat and consequently the population will be able to survive on its own.
SLOVENIA
Ljubljansko barje
Bohor
Radensko polje – Viršnica
Dobrava – Jovsi
DENMARK
Søer ved Tårup og Klintholm
GERMANY
Felchowseegebiet
For more information, please visit our project website
The content of the website www.lifeamphicon.eu reflects only the author's view. The Executive Agency for Small and Medium Sized Enterprises (EASME) nor the European Commission are responsible for any use that may be made of the information this website contains